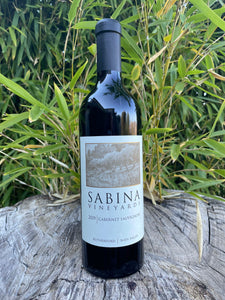 2019 Rutherford Cabernet Sauvignon
Regular price $175.00 Sale
Our very first 2019 Rutherford Sabina Vineyards Cabernet from Galleron Road Vineyard. 


Tasting notes: Elegant, and well balanced Flavors of ripe blackberries, raspberries and cranberries are balanced with delicate notes of sweet vanilla and spice. The tannins are velvety and well integrated, coupled with a vibrant acidity and rich mouthfeel. A classic example of the Rutherford Appellation.
The total production was only 200 cases of this incredible wine which is from one of the finest vineyards in the Rutherford Appellation in Napa Valley - known for Cabernet Sauvignon. H
ome to some of the region's most historic and world-renowned wineries. 
This fabulous cabernet was barreled for 3 years in French Oak and is perfect for drinking now or holding in your cellar. 

Varietal Composition: 100% Cabernet Sauvignon
Appellation: Rutherford
Final Chemistry: TA: 6.0g/L, pH: 3.6
Alcohol: 14.2%
Total Production: 200 Cases
Cellaring: 32 months in 70% new French oak